xTool M1 Review: the Best Desktop Laser Engraving and Blade Cutting Machine
Posted by RAYMOND LEI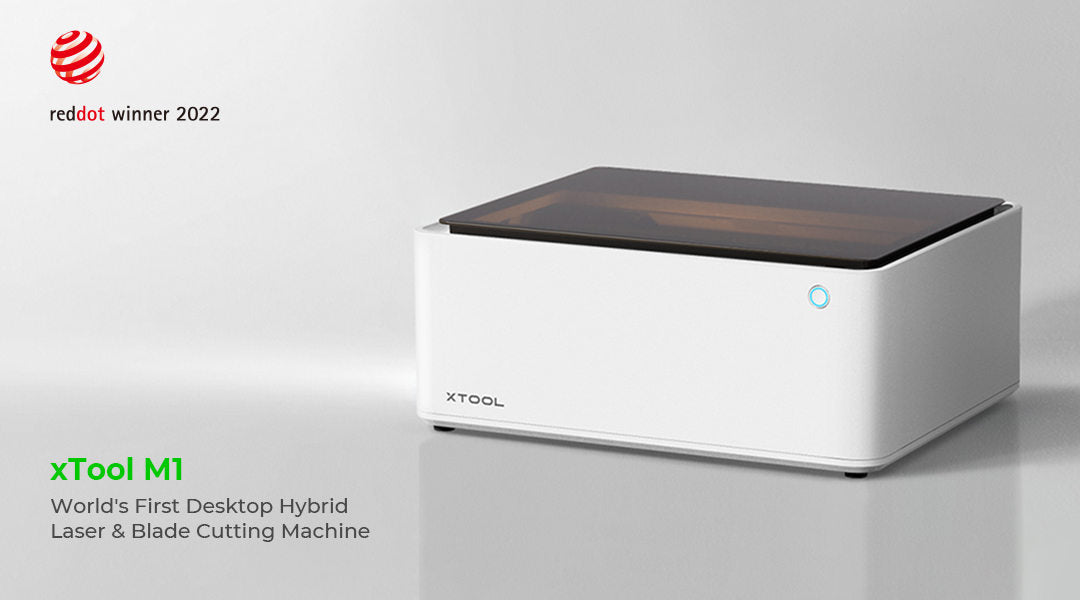 A few decades ago, it was not possible to start a laser engraving or cutting business with low investment or use laser machines for DIY projects. But nowadays, there are many laser machines that are affordable, safe, and easy to use.
Makeblock has introduced five laser engraving and cutting machines to the market to date. It has received a massive investment from Kickstarter that helped it bring innovative and excellent laser cutters and engravers. 
xTool M1 is one of such machines that were created to make laser machines accessible to common people and craft makers. The company is passionate about making it easier for everyone to make things. Even kids can use the machine safely under the supervision of teachers and parents.
In this article, we are going to review it in detail and look at every aspect of the machine. We will see its features, pros & cons, and its cost. It will give you a complete idea of the machine and whether it is worth it or not. Let's start the review without further delay.
Salient Features of xTool M1
Laser Engraving + Blade Cutting
xTool M1 is the world's first hybrid laser and blade cutting machine. Usually, we see laser and CNC carving heads in separate modules, but the company has combined both technologies in a single module. The state-of-the-art technology of this 2-in-1 machine has reduced the overall cost.
With laser and blade heads, the machine can cut and engrave a wide range of materials with ultimate perfection. Laser cutting is excellent for wood, metal, glass, and those materials that are not prone to laser burns. In comparison, blade cutting is used on paper, cardboard, and vinyl to avoid discoloration and toxic fumes.
Dual Laser Technology
The laser module contains dual laser technology that makes the laser more powerful. There are two diode lasers used in one module, and their beams are combined at one spot. Due to this technology, the cutting capability of the machine is increased, and it can perform better than other machines having the same optical power.
Compressed Spot Technology
The laser beams are compressed at a very tiny spot. For this, there is a FAC lens used in the machine to focus all the beams at a small point having dimensions 0.08 x 0.08mm. Due to the small spot, the machine offers ultimate precision and accuracy.
Smart Camera
xTool M1 has a built-in camera that helps you visualize the result before engraving or cutting. The object is placed under the machine and can be positioned accurately after seeing the image on the software. It can realize visual processing and smooth operation.
For instance, you want to engrave an image on a piece of wood. The position of the object matters a lot, and usually, the object is positioned through guesses. But since there is a camera on the machine, there is no need to make a rough guess; the live preview is visible on the software.
AI Focus
The machine is equipped with AI focus technology. It can focus on the material according to its thickness and type. The user does not need to set the cutting and engraving parameters as the machine detects the material and does everything on its own. It is an ideal machine for beginners.
Rotary Attachment
xTool M1 also supports rotary attachment, and the attachment is also available from the company. The roller rotary attachment can help you engrave on regular cylinders. Whether you want to engrave a drinking glass, bottle, or anything else, the machine can engrave it with perfection.
Smoke Purifier
xTool has introduced a smoke purifier that can be used with the machine. The purifier is sold separately, and it contains filters to filter particles in the smoke. After using the purifier, there is no smoke inside M1. The air quality of the area where you are using the machine is not harmed. Users can use M1 inside their closed rooms after connecting the smoke purifier.
Pros of M1
Blade Cutting to Reduce Burnt Edge
The laser beams are ultra-fine, so there are minimal burnt edges after cutting. If the material is soft and prone to burns, such as paper, blade cutting can be used. The machine can offer smooth and burn-free edges.
Works on a Wide Range of Materials
xTool M1 is compatible with a wide range of materials. Due to laser and blade heads, it can cut and engrave more materials compared to a typical diode laser machine. It works on different types of wood and solid wood.
It can cut objects in only one pass. Other than that, it works on leather, PVC, mylar, cowhide, colored ABS, glass, fabric (linen, cotton, denim, nylon, etc.), foam, rubber, acrylic, and a few more materials.
Batch Processing
xTool M1 is capable of batch processing, which is excellent for business owners. For instance, if you want to engrave several lockets, all can be engraved at once. The AI technology of the machine detects the objects. It can engrave and process the same shape of the material in one go.
Ultra-Fine Precision
The laser beams coming out of the laser module are highly focused. They are compressed at a very tiny sport measuring 0.08 x 0.08mm. It offers high precision, which is why the machine is ideal for engraving images and pictures that require minute details. The engraved lines are separate and clearly visible.
Powerful Laser
The laser module is quite powerful. The 10W laser can cut 8mm plywood in one pass and at a very high speed. It saves a lot of time as there is no need to do multiple passes to cut an object. Moreover, engraving is also done at a very high speed.
High Security
There are several safety features incorporated into the machine. First, the lid of the machine should be closed when it is working on any object. If the user lifts the lid up, the machine will stop automatically. This safety feature is excellent for kids and prevents accidents.
Secondly, the harmful blue light is filtered by the lid, so there is nothing to worry about and no need to use goggles. The machine is FDA Class 1 certified.
Ventilation System
xTool M1 has a built-in ventilation system. There is a fan attached to the machine to take out toxic fumes and smoke. The users can connect a pipe to the exhaust fan and throw out the harmful fumes outside their windows. With that being said, there is no need for additional ventilation in the room.
Cost
The cost of xTool M1 is quite reasonable. The machine with a 5W laser module is available at $799, and the 10W laser machine is available at $899. Despite being the world's first hybrid laser and blade cutting and engraving machine, it is available at a very affordable price.
If users try to buy a laser machine and a blade cutting machine separately, it will be more expensive. xTool M1 is a 2-in-1 machine that saves the costs as well as the space of the user.
The best part about the machine is that it is available with affirm. The user can pay as low as $73 per month and start using the machine.
The rotary attachment, smoke purifier, and materials are also available at a reasonable price.
Cons of M1
No Limit Switch
A limit switch enables the laser machine to jump back to the exact position from where it started. The repeat positioning is 100% accurate, and there is no difference visible to the naked eye. xTool M1 does not have limit switches. However, the repeat positioning accuracy is still amazing. It jumps back to the original position from where it started, and there is only a difference of 0.01-0.02mm. This minimal difference in the position is not visible.
The Structure Could Be a Hurdle
Some laser engraving machines have the ability to expand. They can be modified with add-ons and accessories available on the market. xTool D1 has a limited expansion capability, which is not liked by some advanced users.
Moreover, the structure of the machine might be a hurdle as it covers a very limited area. After all, the machine is suitable for most of the purposes for which laser engravers and cutters are used. It supports add-ons and xTool accessories that are already available.
M1 Project Ideas: What Can xTool M1 Make?
xTool M1 is compatible with a wide range of materials. With that being said, it can be used to make a wide range of crafts, customized items, wooden products, and many other things. It all depends on your creativity.
Undoubtedly, users can do a lot of this using xTool M1, but we are going to list some ideas for our readers.
DIY T-shirt
xTool M1 can help you make different designs of your choice that you can transfer to a t-shirt. It is an excellent idea to make something unique for yourself, present a custom t-shirt to someone, and start a small t-shirt printing business. 
You only need PU heat transfer vinyl sheets for it. Choose a design you like and upload it to xTool M1. The machine will cut the sheet according to the design. After that, use an electric iron to transfer the design to the t-shirt.
Home Décor Items
Users can make limitless home décor items using xTool M1. For instance, they can make wooden wall hangings. The machine can easily cut plywood and solid wood of about 8mm thickness in only one pass. Therefore, you can cut any design and make home décor items you like. The wall hanging can also be made in several layers to create a 3D effect.
Business Cards
It is a great idea to make aluminum business cards using xTool M1. The required text and design can easily be engraved on the metal. You can either make cards for yourself or your clients.
Wooden Craft
Creating wooden crafts using xTool M1 is a whole lot of fun. Users can cut wooden sheets and pieces and make various designs. They can also engrave on wood and write messages and names. Here is a jewelry box for an example. Similar outstanding wooden pieces can be made without any hassle.
Customized Items
xTool M1 can be used to customize various objects, such as tumblers, watch straps, belts, laptops, lighters, keychains, pens, drinking glasses, bottles, cutting boards, and lockets. The list of customized items goes on; it depends on your creativity and what you want to make.
xTool M1 vs xTool D1: Which Should I Choose?
xTool D1 is a diode laser engraving and cutting machine similar to xTool M1. Therefore, beginners about which one they should buy.
Both these machines are excellent, and they have their distinct features, pros & cons, and capabilities. The most significant difference is in the laser module. D1's laser module contains only a laser head, while M1's module is a laser and blade cutting module; it also contains a blade head.
There are burn marks after laser cutting, and it is quite visible in delicate materials, such as paper and vinyl. In such cases, a blade cutter is excellent for preventing marks. Therefore, M1 is suitable in this case. 
When you look at both machines, there is a visible difference in the structure. M1 is like a desktop printer, and D1 is like a typical diode laser machine. Due to the physical structure and design, M1 is suitable for beginners. It prevents hazards, and children can also use it under supervision.
In contrast, D1 is for people who remain very attentive while operating such machines. The wires are open, the head is working openly, and almost everything is uncovered, so it is more suitable for professionals.
M1 also has some distinct features that D1 does not have, such as a built-in camera, image extraction capability, and AI focus. These features make the machine easier to use. On the other hand, you need to set the focus in D1 manually, provide the image as there is no image extraction, and you cannot see the live preview on the software.
Moreover, D1 is also compatible with the world's most powerful diode laser module. The module increases the overall power and capability of the laser machine. It makes the laser more powerful and faster. But unfortunately, you cannot use the most powerful diode laser module on M1.
If you are a beginner with a huge interest in digging into the laser industry and want to see how it can turn your ideas into different little projects as soon as you get the machine, xTool M1 is definitely the No. 1 Laser engraving and cutting machine to start with. 
With the software and the camera and image extraction features, you don't even bother to read all the user manuals and do all the settings before you get to your first project.
But if you're more than a beginner but less of a professional laser machine user, or if you have a lower budget, xTool D1 is a better option for you. It provides the possibility of engraving on more materials that M1 can't, and is more compatible with accessories provided by xTool, like the 20W laser module, the new 4-in-1 rotary, RA2 Pro, and risers. All these tools makes your xTool D1 more versatile.
xTool M1 FAQs
Is M1 suitable for starting a laser engraving and cutting business?
Yes, xTool M1 is an ideal machine to start a small business with low investment. The machine is affordable and available in easy installments. In addition, it works on a wide range of materials and objects, and its various features, such as batch processing and image extraction, make it perfect for the business. It is a 2-in-1 machine that can help you recover your investment quickly.
Can beginners use xTool M1?
Yes, beginners can easily use xTool M1. The machine is easy to operate, and there are tons of guides and video tutorials available on the website and YouTube channel. The software, Laserbox Basic, is a specialized software that beginners can use without any hassle.
Can I replace the blade module?
The blade can be replaced when needed. The machine comes with five replacement blades that can be used later. You can also buy more blades from the company.
Conclusion
xTool M1 is definitely a one-of-a-kind and the world's first laser and blade cutting and engraving machine. The company has given extra attention to the compactness, safety, ease of use, and latest features.
Therefore, the machine is ideal for beginners who want to start a small laser business, do DIY projects, or get familiar with laser engraving and cutting. Due to outstanding features, xTool M1 is more than amazing. Most importantly, it is quite affordable and can easily be purchased in installments.
More questions? Join our Facebook Group to get inspired!
Collection 2019
Sale 70% Off
Title for image