Introducing xTool RA2 Pro: the Most Versatile Rotary for Laser Engravers
Posted by RAYMOND LEI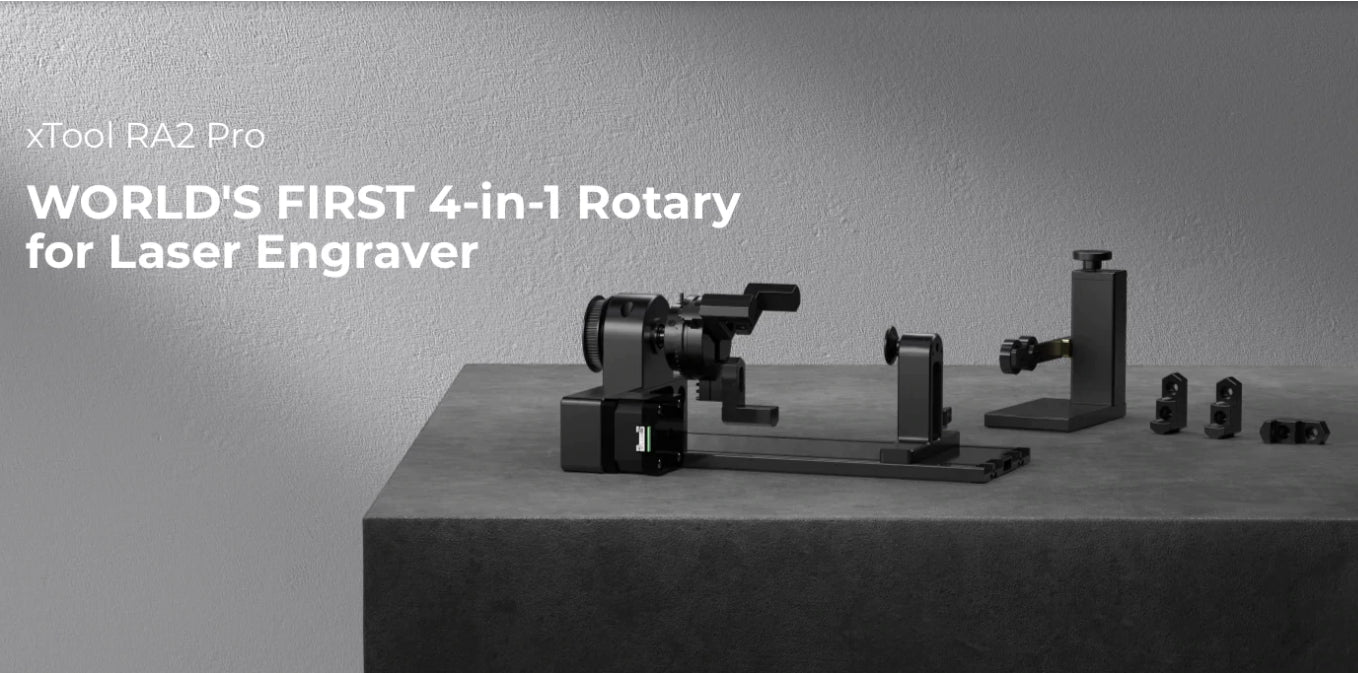 With laser engraving machines, we have limitless choices for engraving different types of objects. Almost anything can be engraved that is made of a compatible material. The user only has to place the object under the laser machine, and the machine does the job on its own.
But when it comes to cylindrical objects, machines cannot engrave them without moving; 360-degree rotation is necessary.
A laser engraver cannot rotate the object 360 degrees on its own. There is a need for a separate rotary attachment that can rotate the cylindrical object for engraving. Therefore, laser business owners and enthusiasts look for a rotary attachment that can engrave their cylindrical objects.
But unfortunately, there is no perfect rotary attachment to date that can accommodate all cylindrical objects. Some attachments are compatible with only regular cylindrical objects, while some can engrave irregular cylindrical objects only.
For engraving a sphere or ring, you need a separate attachment for each. Since there is not a single attachment that can satisfy multiple needs, users have to buy multiple rotary attachments.
We xTool have decided to solve this problem and created a rotary attachment that can engrave most of the objects. We are going to introduce the world's first 4-in-1 rotary attachment that can work in most scenarios.
xTool's RA2 Pro is a 4-in-1 rotary attachment for xTool D1, xTool M1, and various other compatible laser engraving machines. With this one attachment, users can engrave regular and irregular cylindrical objects, spheres, rings, and a wide range of objects that need rotations during engraving.
Key Features of RA2 Pro
4-in-1 Rotary for Different Cylindrical Engraving
RA2 Pro is a 4-in-1 rotary attachment that does the work of four different types of rotary attachments. It works like a simple roller rotary that can engrave regular cylindrical objects.
It also has a chuck rotary that is perfect for irregular cylindrical objects, such as a wine glass. Roller and chuck rotary are the two commonly used rotary attachments, and RA2 Pro has both.
Moreover, RA2 Pro also has a sphere engraving module that prevents the sphere from rolling. It can engrave any sphere, such as a cricket ball. The fourth function of RA2 Pro is ring engraving. It has a ring engraving stud that holds the rings perfectly, irrespective of the diameter.
Compatible with Third-party Laser Engravers
RA2 Pro can be attached to third-party laser engravers. It is designed to work with different machines. It works with popular laser engraving software, including LaserGRBL and LightBurn.
Works in 90% Daily Cylindrical Engraving Scenarios
RA2 Pro works in 90% daily cylindrical engraving scenarios. It works on a wide range of cylindrical and spherical objects irrespective of their size and diameter. Users can engrave almost anything using the rotary attachment.
Wide Diameter Range
The diameter range of RA2 Pro is wider than other rotary attachments available on the market. The roller rotary can engrave objects up to 198mm in diameter. The diameter range of the chuck rotary is 0-100mm, the sphere rotary is 25-100mm, and the ring rotary is 11-70mm.
With this broad range, users can engrave a wider range of commonly used objects. Almost all sizes of rings can be engraved using the ring rotary. A cricket ball or similar size of spheres can be engraved via the sphere rotary.
If you want to engrave on even larger objects, you can 3D print jaw parts that can be used on this chuck rotary.
Engraves Extra Long Cylinders
A surprising feature of RA2 Pro is the separable support module. The module can be disassembled from the attachment to accommodate extra-long cylinders. Irrespective of the length of the cylinder, RA2 Pro can engrave it with perfection.
It can engrave a long baseball bat by detaching the support module and adjusting it according to the size of the bat. There is almost no limit on the length of the object.
High-Speed Vector Engraving
RA2 Pro does vector engraving at a very high speed of up to 360 degrees per second. It rotates the objects at a fast pace without leaving any point for engraving. It is quite beneficial for business owners as the attachment is capable of doing the job quickly and handling more orders.
The attachment is designed to hold the object firmly and offer maximum support. During high-speed rotation, the object remains stable.
High Precision and Stability
The attachment contains high-quality stepper motors that ensure optimal control and stability. These motors can rotate at a minimum angle of 0.45 degrees and offer high precision. Even during the high-speed rotation, the precision is at the optimal level.
Easy-to-Switch Rotary Modules
RA2 Pro is a pre-assembled attachment. It's easy to switch from one rotary to another by just plugging in the attachment and tightening a few screws. And it is then ready to engrave another type of cylinders.
Long-term and Reliable Use
The attachment is made of anodized aluminum alloy with a corrosion-proof coating. It works for a long-time without any disturbance. There is nothing to worry about the corrosion on the metallic body; it is completely corrosion-proof.
What Can You Engrave with xTool RA2 Pro?
Wine Glasses
Wine glasses are irregular in shape. The rim and bowl of the glass are wide, the middle part, called the stem, is very thin like a stick, and the base is a flat circle. It is impossible to engrave a wine glass on a typical roller rotary attachment because of its irregular shape. Chuck rotary cannot handle a delicate wine glass; therefore, a special type of roller rotary is needed.
RA2 Pro can engrave a wine glass using its roller rotary module. The support module can accommodate irregular objects. Therefore, any type of wine glass can be engraved using RA2 Pro. It is a complete solution for wine glass engravers.
Tumblers
YETI tumblers can be engraved smoothly with the chuck rotary module. It tightly holds the tumbler and rotates it with ultimate precision.
But if the upper part of your tumbler has a much larger diameter, the chuck rotary may not fit for the engraving. in this case, you need a roller rotary along with a tail support (check below) to make sure the tumbler is rolling smoothly.
Baseball Bats
The issue with a baseball bat is its length. The commonly available roller rotary attachments cannot engrave a baseball bat. But due to the separable base module of RA2 Pro's roller rotary, a long baseball bat can easily be engraved.
Even if the cylinder is larger than a baseball bat, it can be engraved. The rollers rotate the bat, and the support module offers support at the other end of the bat. The engraving is done smoothly and with optimal precision.
Mugs
Due to the handle of the mug, it cannot rotate on a roller rotary. For this, you can use the chuck rotary module. The module holds the mug tightly and rotates it with accuracy and precision. It can hold a large diameter of up to 100mm, so it is suitable for a larger mug as well.
Baseballs and Other Spheres
Spheres are not easy to rotate because they start to spin while rotating over a roller rotary or check rotary. In such a case, engraving cannot be done with precision and accuracy.
xTool RA2 Pro has solved this problem through the sphere module. The module prevents spheres from rolling around. It holds the object tightly and keeps it stable during engraving.
Rings
With RA2 Pro, rings of all sizes can be engraved. There is a ring engraving module that holds the rings with perfection. The ring does not slide or move during rotation; therefore, engraving can be done with high precision.
Final Words
RA2 Pro is an all-in-one solution for rotating cylindrical and spherical objects with ultimate precision. Laser machine owners can buy this one tool to fulfill their needs of engraving a wide range of objects as it covers 90% of the cylindrical engraving scenarios.
The best part is that it can be attached to various third-party laser engravers and engrave objects irrespective of their lengths. In addition, it offers optimal precision and accuracy even at a very high speed, which makes it ideal for laser engraving businesses. This one rotary attachment is all you need to engrave all cylindrical objects you can think of.
More questions? Join our Facebook Group to get inspired!
Collection 2019
Sale 70% Off
Title for image