Top 5 Gift Ideas for Mother's Day 2023
Posted by RAYMOND LEI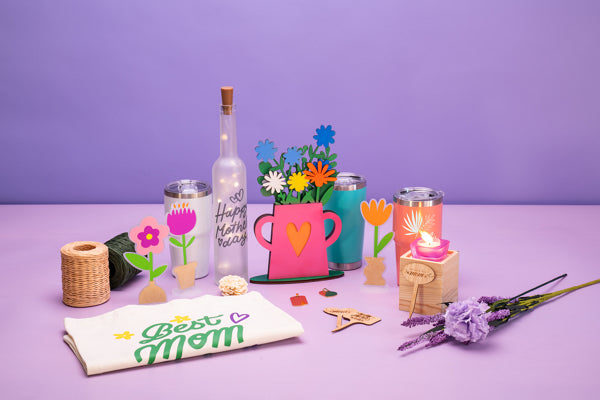 If you want to surprise your mother and express your love this Mother's Day, you need to think of a creative, unique, and attractive gift idea that you can make by yourself.
Undoubtedly, there are hundreds of gifts available on the market, and you can easily buy one, but putting some effort into making a gift is a way to express feelings and love. Even if your gift is small and inexpensive, your hard work, creativity, and effort will make your mother happy.
There are many Mother's Day gift ideas you can implement using a laser engraver. If you have xTool D1 or M1, you can make dozens of unique and attractive gifts for your mother.
For this special day, we have compiled the top 5 Mother's Day gift ideas that will make her day. It would be an exciting DIY project, and you can either do it for your mother or sell the products in online stores.
We will explain the step-by-step methods and share files so that you can make the Mother's Day gift on your own.
Top 5 Gift Ideas for Mother's Day 2022
1) Wooden Bouquet
The first unique gift on our list is a wooden bouquet. We made a colorful and lovely bouquet using xTool D1. It is actually a multi-layered bouquet, and there are five pieces cut and engraved by the laser machine. All these pieces and layers are joined together to give a multi-layered and 3D look.
xTool D1 has a very high-precision and movement accuracy. It handles vector graphics with ultimate precision. We have done vector engraving/cutting to make this beautiful bouquet. For our readers, we have attached the SVG file that they can easily upload to Laserbox Basic or Lightburn and get it done without any hassle.
Steps to Make Wooden Bouquet
Step 1: First, you need to gather all the materials required. You need 4-5 A4 size plywood pieces of 5mm thickness. We need to make five pieces to make the whole bouquet, but two pieces can come out of single A4 plywood, so you might need four pieces in that case.
You can also opt for larger and thicker plywood boards as needed. Secondly, you need regular wood glue to stick all the layers and pieces. Lastly, you need painting accessories, such as a brush and paint.
Step 2: When everything is ready, we can start working on D1. Set up the machine and the software. We are using the 10W diode laser module and Laserbox Basic. Open the software and upload the SVG file that we have shared. You need to cut the pieces one by one.
Step 3: After uploading a file, place the plywood on the honeycomb panel. Adjust the position of the laser module over the board. Make sure the laser is focused; otherwise, it might not cut the plywood in one pass.
Step 4: Select the Wood setting and set the power at 100 and speed at 4 mm/sec. When everything is ready, you can begin the process by clicking on the Start button.
Step 5: After cutting one piece, you need to cut the remaining pieces. Once everything is ready, it is time to paint. You can paint all the pieces as you like.
Step 6: After painting all the pieces, refer to the video below and join all the pieces using wood glue.
Hurray! The bouquet is ready. Let it dry and present it to your mom. 
These were the simple steps for making the bouquet. You can also improvise a few things. If you want to add names, quotes, or tag lines, you can raster engrave on the wood. It can be customized according to your imagination.
2) Glass
You can engrave a drinking glass or wine glass for your mom. This way, whenever she drinks in the glass, she will start to think about you. It would be an amazing and customized gift for Mother's Day.
For this, you need a glass that can be etched. Then, you need the graphics; you can engrave anything you like. You also need a rotary attachment to rotate the glass during the process. xTool RA2 Pro is the perfect and world's first 4-in-1 rotary that can do the job with perfection.
Moreover, keep in mind that you cannot directly etch or engrave the glass. You need to apply tempera paint or a cold galvanizing compound on the surface. See this guide on how to etch glass using xTool D1.
3) Keychain
You can also make keychains for Mother's Day. The keychain can be used for car keys or home keys. It will be something that your mother will be using several times every day.
The pre-made keychains are already available in the online stores. You can buy a stainless steel or wooden keychain. xTool D1 can engrave on both materials.
After purchasing the keychains, you only need to engrave them. The design can be of your choice. Place the keychain on the honeycomb panel and start engraving. The gift will be ready in a few minutes, depending on the design.
4) Table Showpiece
Table showpieces are excellent for home décor. The people visiting your home will also see the showpiece. There are hundreds of designs for table showpieces. They can be in one layer or multiple layers, similar to the wood bouquet we have made.
For this, you need only plywood, and the quantity and size depend on the design and the number of layers. You can make some exciting decoration pieces by engraving any Mother's Day quote, your mother's name, symbols, tagline, or anything you like. You can also engrave a picture of your mom on the plywood.
5) Tumbler
A tumbler would be a nice idea for a Mother's Day gift. There are pre-made tumblers, such as Yeti tumblers, available. You need to buy a suitable one and engrave anything you like. The tumbler can be customized with names, quotes, and images.
xTool D1 can easily engrave Yeti tumblers, but you need a rotary attachment to rotate the tumbler. RA2 Pro is an all-in-one solution for engraving all types of cylindrical objects. You can use it with D1 and engrave the tumbler with perfection.
Conclusion
Mother's Day is a special day because it is for a special person. Thus, the gift should also be extraordinary and unforgettable. We have shared some unique and awesome ideas for Mother's Day. You can implement any of these ideas using xTool D1. You can also brainstorm a unique idea and turn your imagination into reality using D1; the sky's the limit. You can easily make a unique, personalized, and attractive gift for the day.
More questions? Join our Facebook Group to get inspired!
Collection 2019
Sale 70% Off
Title for image